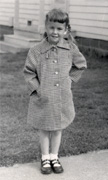 Originally from Montana, Catherine has made her home in Southern New Hampshire within reach of the mountains and ocean important to her. She received her BFA from Tyler School of Art in Philadelphia and has done graduate work at Tufts University. While studying painting and printmaking for a year in Rome, Catherine was profoundly influenced by the timeless grace and classicism of the Renaissance period. During the thirty years since that time, Catherine has been committed to the printmaking process of silkscreen, developing a style with an emphasis on color, form, pattern and detail.
Because Catherine as an artist desires complete and total involvement, she is the sole person involved in the production of her prints. The procedures include the initial conception of work, the stencil cutting and preparation, choosing and mixing the colors, registering the paper, and printing the ink. Because of the complexity of some of the images, as many as forty-five separate hand cut stencils may be needed for a single print and may take up to six months to complete. All silkscreens are printed with the finest ink on one hundred percent rag print stock of archival quality in signed limited editions.
Awards and recognitions include: The Yankee Magazine Print Award, 1983; Purchase Prize Award, The Lakes Region Fine Arts and Crafts Festival, 1983; Best in Show, Prints and Photographs, Arthritis Foundation Art Exhibition, Concord, NH, 1985; First Prize, Prints, Newburyport, MA, 1985, 1987, 1990; First Prize, Graphics, Westfield Art Festival, Westfield, MA, 1993; First Prize, Graphics, Stamford Art Festival, Stamford, CT, 1993; First Prize, Graphics, Glastonbury Art Festival, Glastonbury, CT, 1994, 1995; Best in Two Dimensional Design, League of NH Craftsmen, Sunapee, NH 1997; Who's Who in the East; Who's Who of American Women.
Various invitational shows including the Cheremeteff Exhibition of American Prints, The Book Chamber, Moscow, Russia, 1990 and the Permanent Collection of the USSR, 1990.